New Heritage project starts in Stratford thanks to National Lottery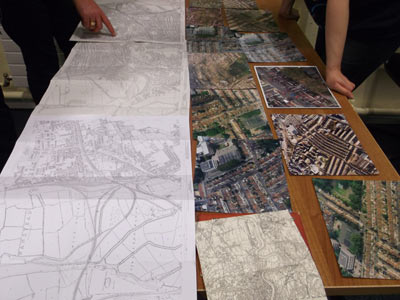 Local charity Newham New Deal Partnership has been awarded funding for a two year project to engage residents and workers of Stratford Village (E15) in researching the working lives of past and current residents through archive research and oral history collection.
The Discovering Stratford Village project aims to chart and celebrate the economic and social history of "Stratford Village" over 100 years through the working lives of residents and local businesses. It will ensure that the area's heritage will not be forgotten as new buildings and communities become established in the Olympic Park area.
The area covers eight streets to the south of the Olympic Park site, bordered by Romford Road, West Ham Lane and Vicarage Lane. The late Victorian two up two down houses of the area were built between 1894 and 1896, and Census data show previous residents worked in a wide variety of trades and local industries, many of which no longer exist.
The project will involve a range of partners including the Newham Archive (based at Stratford library), the local residents association, Newham Local History Group, Newham College, TUC Library Collections at London Metropolitan University, and others. Current local and p
ast residents of the area with stories to tell who are encouraged to get in touch with the charity.
As the project progresses the archival research and oral histories will be celebrated and made more widely available through a public talks programme, a website, a walks app and a guided walks programme.
Stuart Hobley, Head of HLF London, said: "From Fancy Card-box Makers to Stokers and Cow Men, workers in Stratford have been involved in a fascinating array of trades throughout the last 100 years. We're delighted that money raised by National Lottery players can support this project to document the area's evolving community and enable volunteers to learn valuable new skills."
Our next community forum will be on Tuesday 13th of June, from 6.30-8.30pm, at Newham College (Stratford Campus) on Welfare Road. This is an oppertunity to find out more about the project, to ask and answer questions and meet other participants over a tea and biscuits. We are also offering training at Newham Archive (Stratford Library). You are welcome to bring photographs with you.  We are also offering training at Newham Archive on Saturday 3rd of June from 1.30pm - 4pm. This training will teach participants how to use archive resources to reseach the history of their own houses. If you'd like to participate by in contributing to the project by researching who lived in your house in the past, you are welcome to join us. Please let us know and we will reserve a place for you.
For further information, please contact: 0207 366 6343 or This e-mail address is being protected from spambots. You need JavaScript enabled to view it